Pergolas and Gazebos Build
Gazebos and pergolas offer many of the same benefits as a deck or porch but are not necessarily attached to your home. This means you can build them in their unique way without necessarily following the design of the house.
Since they are freestanding, you can add landscaping accents and other features to improve the look of the outside of your home.
If you don't know the difference between a gazebo and a pergola, they differ in the presence of a roof. Gazebos are open-walled with a roof that protects you from spring rain and gives you shade, while Pergolas have awnings made of rafters that let the sun shine on you.
Custom Build Gazebos and pergolas in Port Jefferson, Long Island
Regardless of the structure you want, here at Sublime, we believe that your gazebo or pergola should be unique and reflect your style and preferences.
Our team of design experts creates custom outdoor living spaces that fit with your home and garden and show off your style.
When we visit your home for a consultation, we talk about your vision and give you ideas on improving it. Our team will also show you past projects to give you a feel of what we are capable of.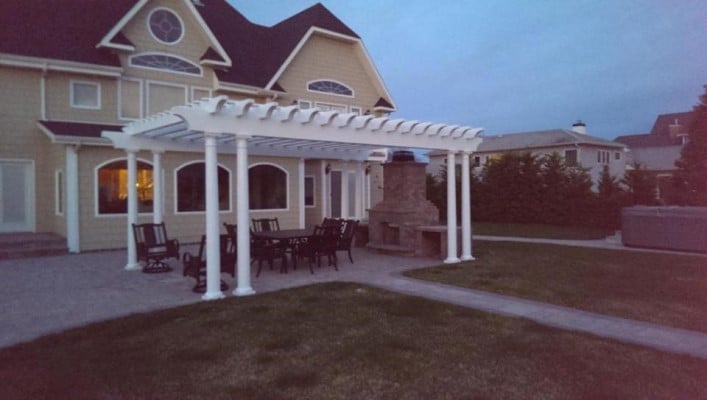 If you don't know where to start when it comes to style, here are some ideas:
Gazebos in Port Jefferson, Long Island
Octagonal gazebos are the most common because they look great with most home designs, but oval gazebos are becoming more popular. The reason for this is that an oval has longer sides that give you more room to have people over. If you want to add a bathhouse or hot tub, a rectangular gazebo is a good choice.
Pergolas in Port Jefferson, Long Island
The traditional pergola has a post-and-bracket design with a flat roof that is held up by posts and held in place by brackets.
The good thing with pergolas is that you can customize them as much as you want. When you hire our services, we'll design and build your pergola to fit in with the rest of your yard.
Our contractors are highly experienced and will build almost any pergola you want. We will build everything from traditional column pergolas with plenty of space for activities to pergolas on rooftops and terraces that can be connected to an indoor living area.
We are the best company for putting up gazebos and pergolas in Port Jefferson, Long Island. And we are committed to giving our clients the most beautiful outdoor living spaces that are safe and built well.
When handling any project, we use building methods that are good for the environment, and by staying in touch with the customer throughout the project, we ensure that the project runs smoothly and there are no surprises.
Each structure we put up is made with high-quality materials and comes with a warranty. Would you love to improve the look of your home and make your yard more functional? Get in touch with us right away to set up a free in-home consultation.