Custom Pergolas Builder Long Island
The primary purpose of a Pergola is to make your outdoor living room bigger and more comfortable.
At Sublime Inc. our pergolas are meant to block the sun, so you can enjoy the outdoors and have parties in your backyard.
Our specialty is designing and building attractive, useful, and long-lasting pergolas that enhance your property's appearance while offering a comfortable and inviting spot for you to relax and entertain guests.
Our expert pergola installers will help you add a pergola to an existing building or on its own. 
We build custom pergolas in Long Island
We understand everyone has their unique tastes, and this is why we are always open to build custom units.
We work closely with you to understand what you want and make a design that fits your style and budget.
We have the skills and knowledge to make your dream come true, whether you want a simple, minimalist structure or a more complex pergola with many details.
If you need to add some color and privacy, our custom pergola builder will help you create and decorate your pergola space with lattice panels, large planters, deep seating in the right places, and other features such as outdoor fireplaces, bars, and kitchens.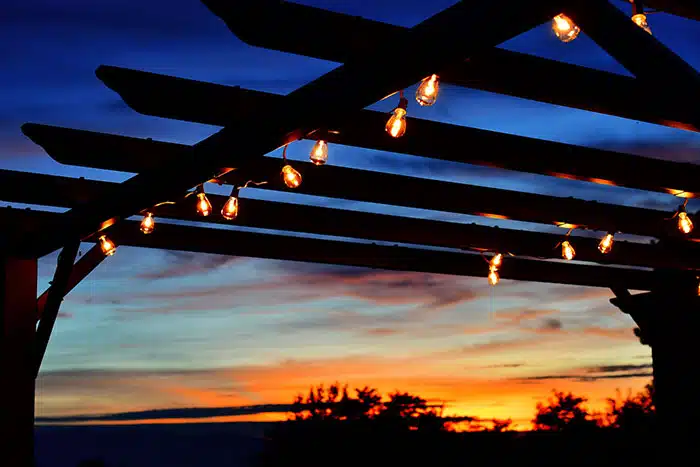 If you don't know where to start when it comes to style, here are some ideas:
High-quality pergolas Long Island
Regarding pergolas, we know that it's not just about how they look but also how well they work and how long they last. That's why we only use high-quality materials that will last for years.
Our pergola builders use various materials based on what you want and what works best for your needs. Some of the materials we use include: 
Cedar is a popular pergola material because it is resistant to rot, decay, and insects. It's also lightweight and simple, making it ideal for DIY projects and professional installs.
Pressure-treated lumber: It is a low-cost choice that has been treated to withstand rot, decay, and insects. It's also sturdy and long-lasting, making it an excellent choice for heavily used pergolas.
Redwood: Redwood is a beautiful, long-lasting wood naturally resistant to rot and insects. It is also a sustainable option because it is sourced from carefully managed forests.
Steel is a sturdy and long-lasting material ideal for modern and industrial-style pergolas. It also requires little upkeep and can tolerate extreme weather conditions.
Aluminum: Aluminum is lightweight and long-lasting and ideal for pergolas that will be exposed to a variety of elements. It is rust and corrosion-resistant, making it an excellent choice for coastal environments.
Long Island Pergolas Contractors
Not sure about the material to use? Our custom pergola builders will help you choose the ideal one for your property. 
No matter the material you choose, we professionally install the pergola to ensure that it is strong, stable, and long-lasting. 
During the installation, we pay attention to the weather in your area and ensure that the materials we use can withstand the weather.
Pergolas Design and Build in Long Island NY
pergola to your home backyard or create an enticing outdoor place. For business pergolas, we know that your outdoor space is integral to making your customers feel welcome and comfortable. 
We work closely with you to create and build pergolas that fit your brand's style and give you a place to eat, sit, and have fun outside. 
Our team of skilled and experienced pergola builders takes care of every step of making a pergola, from designing to putting it up. 
We use the most up-to-date building methods to make sure your pergola is strong, safe, and useful. 
We're also committed to giving great customer service, and we'll work with you every step to ensure your pergola is precisely what you want.
We are ready to help you build an outdoor space you'll enjoy for years. We will work with you to plan and build a pergola that fits your needs and exceeds your expectations.
Contact us today to set up a meeting with our professional pergola builder, who will help you improve your outdoor space.