Custom Gazebo Builder Long Island
At Sublime Inc., we build gazebos of all types. We build some separately from the main house, but if you don't have a large backyard, we build it as part of the house. 
If you are wondering how a gazebo differs from a pergola, the roof of a gazebo is frequently covered and not flat. 
This layout allows for adding overhead lights, an overhead fan, and weather protection.
We recognize the value of designing an outdoor living space that is attractive and functional. 
This is why our skilled gazebo builders are committed to offering high-quality installation services that will add beauty and value to your home.
Custom gazebos in Long Island
We only use the best products and methods in our installations. For example, we exclusively use high-quality materials like Trex, Cedar, and composite. This ensures that your new gazebo is strong, lasts for a long time, and is able to handle all types of weather.
We take pride in our attention to detail and dedication to quality. From foundation work to roofing and finishing touches, our professionals are experts and put in their all to ensure your gazebo is beautiful, strong, and lasts for a long time.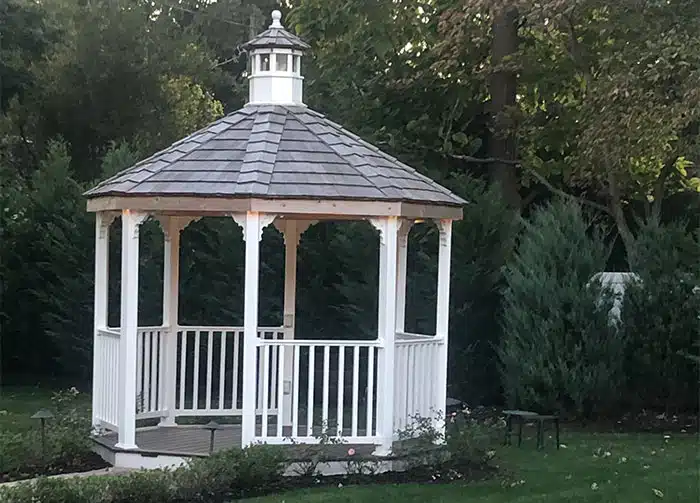 If you don't know where to start when it comes to style, here are some ideas:
We build the gazebos to order in Long Island
As a custom gazebo builder, we build all our structures to order. This means that we build the gazebo as per your preference. We add flower boxes, ambient lighting, built-in benches, fireplaces, outdoor kitchens, and other features you like.
Whether you are looking for a quiet seating area, a huge outdoor kitchen, or a distinctive garden centerpiece, our staff is ready to work with you to build a design that represents your particular style and fulfills your needs.
Besides the gazebo, we also help you add plenty of gazebo accessories, such as: 
Mosquito screens
Fans
Low-voltage accent lighting
Customized window treatments
Gated Plants Sinks
Refrigerators
Privacy fences
Post-it notes
Built-in barbecues and many more!
Easy and straightforward installation process
Our installation procedure is simple and painless. We begin with a consultation to determine your needs and preferences and create a custom design that matches your vision. 
Our gazebo builders manage all installation parts, from site preparation to final cleanup, ensuring that your gazebo is properly installed.
We start with choosing a location for your gazebo. The area we settle on has to be flat and large enough to accommodate your unit. If it's not level, we level it before proceeding to the next step. 
Once the site is ready, we install the gazebo and secure it using strong stakes or anchor posts to ensure it's firmly in place. This gives you peace of mind that strong winds or other weather elements won't damage the gazebo. 
We complete the look by decorating the gazebo using furniture, plants, and other accessories. We use the best quality materials and pay close attention to the end look of the property once done. 
This not only ensures that the gazebo is properly installed but also complements the look of your house. 
We believe in offering excellent customer service, so we insist on directly working with you during the installation process. 
From start to finish, we are devoted to providing exceptional customer service. To get you started, we provide free consultations and estimates and work with you throughout the design and building process to ensure your complete pleasure.
Our goal is to make sure you love your new gazebo and that it adds to the beauty and utility of your property.
Gazebo build services Long Island NY
We build gazebos, repair and maintain them so they look their best. Our team will help you keep your gazebo in great shape for years. 
We can replace worn-out roofs and fix damage caused by storms or other natural disasters.
We believe that a well-built gazebo can be the focal point of your outdoor living space, and we're dedicated to assisting you in creating a structure that is not only functional, but one that you'll be delighted to show off to your friends and family. 
Contact us today to meet with one of our skilled professional gazebo builders and begin planning your dream gazebo!